Kevin Stroh, DPM, FACFAS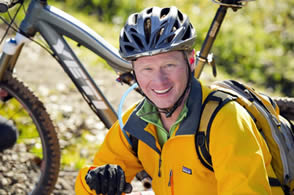 Dr. Kevin Stroh completed his undergraduate work at California State University at Sonoma in 1982. He then gained admission to the California College of Podiatric Medicine in San Francisco, where he received his Doctorate of Podiatric Medicine. While at the California College of Podiatric Medicine, Dr. Stroh received intensive and extensive clinical training and experience, treating active duty military personnel at both Travis Air Force Base and Fort Ord Army Base. Dr. Stroh was accepted into a surgical residency at the Veterans Hospital in Albuquerque, New Mexico. In addition to common foot disorders, he treated a high volume of patients with diabetic foot conditions.
As a 4th generation Lodian, Dr. Stroh was proud to return to his home town in 1987 to form Lodi Podiatry Group with his partner Dr. Thomas Shock. Since that time, Dr. Stroh has engaged in continuing education and training in all areas of podiatric medicine, with an emphasis in surgical techniques. He was Board Certified by the American Board of Podiatric Surgery in 1993. He is a Fellow of the American College of Foot and Ankle Surgery, as well as a Diplomat of the American Board of Podiatric Surgery.
Dr. Stroh's practice includes both surgical and non- invasive treatment of foot problems, with patients ranging in age from pediatric to geriatric. His current areas of clinical interest also include biomechanics and the treatment of sports-related injuries, as well as various geriatric related disorders of the foot and the management of the diabetic foot. Dr. Stroh is also very involved in preventive measures such as the design of customized orthotics and braces to manage foot disorders.
Dr. Stroh is an exercise enthusiast and enjoys a variety of activities including running, mountain biking, backpacking, skiing and Pilates. Related to his personal interest in physical mobility, Dr. Stroh is keenly aware of the importance of early diagnosis and effective treatment of sports injuries in order to return his patients to their physical activities as quickly and safely as possible.
Dr. Stroh enjoys the close knit proximity of his family who also reside in Lodi. Dr. Stroh enjoys staying healthy and active in his community and lends his support to a variety of civic groups and charitable organizations.